TIME CHANGE: Monthly Meeting will move to the evenings for July and August. See Calendar for info.
NB: DATE CORRECTION The newly reconvened Mental Health and Spiritual Care committee will meet on Tuesday June 10, 10:30 am at 1205 Surf Ave, 2nd floor. Thanks to our hosts at the Alliance for Coney Island.
---
DCM Meeting is on Tuesday, June 10, 10am.
Construction Meeting, aka CVD, is on Thursday, June 12, 10 am.
Steering Committee Meeting will be on Thursday, June 19, 11 am. NB: TIME CHANGE. Board Meeting will be from 9:30-11 am.
---
RED HOOK/GOWANUS Comptroller Stringer is hosting a second Brooklyn Sandy Oversight Hearing Town Hall on Tuesday, June 10. See flyer below for more details. Or check out the Event listing on our website. RSVP  to meetings@comptroller.nyc.gov.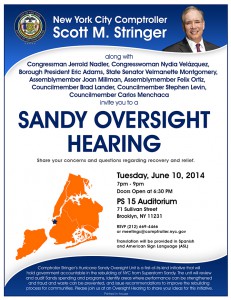 RED HOOK updates: Follow RED HOOK VOLUNTEERS  or on twitter for specific events and opportunities. Contact them directly to be added to their newsletter.
---
Mental Health Resources – Active Programs – NO CHARGE
VNSNY – Disaster Distress Response Program. This program will come to you in your home or community for Cognitive Behavior Therapy – Post Disaster Distress (CBT-PD).For information about VNSNY's Disaster Distress Response Program, call 1-718-888-6955 – See more at the VNSNY website.
Disaster Distress Helpline: Call  1-800-985-5990, press "1" for Sandy specific counselor OR Text: 66746: "TalkWithUs" or "Hablanos". You can also check out their website, facebook page or follow them on twitter.
MHA – NYC has a new online comprehensive internet-based Cognitive Behavioral Therapy (ciCBT) program in English and Spanish. Call  212-614-6349 to learn more about MHA's CBT  iHelp: Sandy Stress Relief and how it can help the communities you serve.
CONEY ISLAND – Two new programs are now active. Coney Island Connections provides case management and mental health services out of 1205 Surf Ave., 2nd floor, contact Laura Joseph, ljoseph@lmcmc.com. NYC Department of Health at Coney Island Hospital, Jeffrey Mathias, email: jmathias@health.nyc.gov
---
  CANARSIE
Volunteers and sponsorship are still needed for Canarsie Day, contact David Louis at canarsierecoverycoalition@gmail.com.