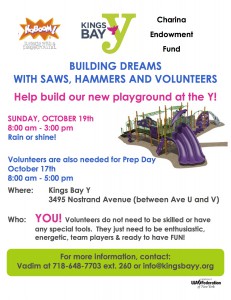 Volunteers are also needed for Prep Day October 17th, 8:00 am – 5:00 pm, and for the Build Day Sunday, October 19, 8:00 am – 3:00 pm.
Where: Kings Bay Y
3495 Nostrand Avenue (between Ave U and V)
Volunteers do not need to be skilled or have any special tools.
Volunteer one or two days this week  to help this Sandy survivor organization. See flyer for details. Call Vadim 718-648-7703 ext. 260 if you have any questions  or email info@kingsbayy.org for more details.