Sign-up for One or More Sessions (New DCMs Must Attend All Sessions)
**Free Training & Breakfast — Limited to 100 Participants**
SCHEDULE
8:30am                       Registration and Breakfast
9:00am                       DCM Refresher
9:30am                       New Disaster Case Manager Orientation
10:00am                     Mock Roundtable & Case Trouble Shooting
See how a Roundtable works & bring your difficult cases to discuss and get advice from donors/Roundtable staff on how to get them funded
12:00Noon                DCM Supervisor Training – On Portal Use for Managing Cases

Presented by:           New York Disaster Interfaith Services (NYDIS)
Sponsored by:           DCMP – Catholic Charities, Archdiocese of New York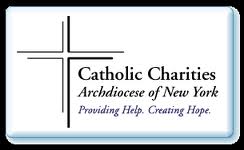 Location:      Metropolitan College of New York (MCNY)  
11th Floor Conference Room
(Enter on Canal St. between Varick St. and Hudson St.
Please Note: If you register, please give us 24 hours notice if you are unable to attend; no-shows are costly and prevent other DCM colleagues on our waiting list from participating.
Metropolitan College of New York is fully accessible. If you need an accommodation, please indicate on the registration page.