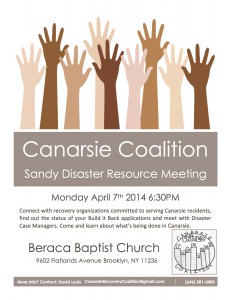 In an effort to reach to a larger number of Canarsie residents impacted by the storm, the Canarsie Coalition will be holding its first general meeting in the evening. Please come out and connect with recovery organizations committed to serving Canarsie residents, mental health providers, meet with Build it Back representatives to find out the status of your applications and meet with Disaster Case Managers (your primary connection to disaster resources after being impacted by Sandy).
When: Monday April 7th, 2014 | 6:30pm
If you represent an organization that provides recovery resources and would like to participate at this forum, please contact us ASAP. Tables are limited.
For more information email David Louis at CanarsieRecoveryCoalition@gmail.com